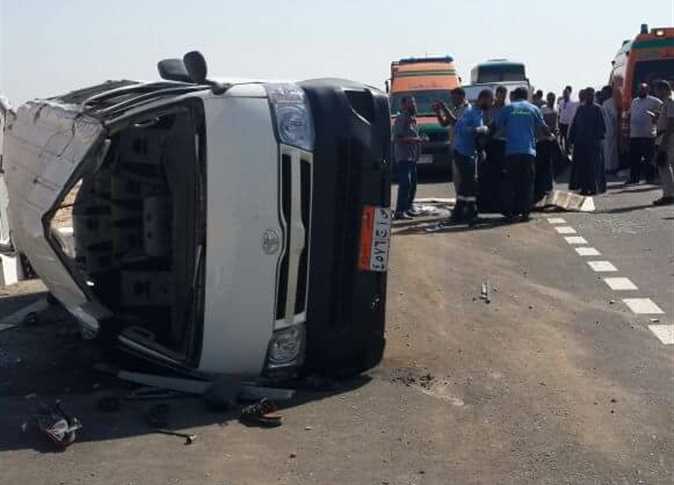 Seventeen people were killed and three others were injured in a terrible collision on the Western Desert Road, on Tuesday evening, between a microbus and a truck in the Juhayna city in the north of Sohag Governorate.
Sohag Governor Tarek al-Fiqi said that he is following up on the repercussions of the accident moment by moment.
He has also assigned the executive authorities in the governorate to move to the site of the accident, follow up on the condition of the injured, and quickly finish the procedures for handing over the corpses of the deceased to their families.
The General Secretary of the governorate moved to the site of the accident to supervise the transfer of the bodies and the injured to hospitals, while other governorate officials moved to Sohag University Hospital to follow up on the condition of the injured.
According to preliminary investigations, the accident occurred between the microbus carrying a group of passengers and a truck due to excessive speed and the wrong overtaking of the microbus driver while he was trying to avoid the truck in front of him.
Hani Fouad, director of the ambulance authority in Sohag, said that 22 ambulances were dispatched to the site of the accident, and the bodies were transferred to Maragha Central, Juhayna Central, Tahta General, and Sohag General hospitals, and the injured were taken to Sohag University Hospital.
The 2020 report of the Central Agency for Public Mobilization and Statistics (CAPMAS) issued in November showed a decrease in the number of deaths due to road accidents to 6,164, compared to 6,722 deaths in 2019, a decrease of 8.3 percent.
Road accident injuries in Egypt decreased during 2020 by 28.9 percent compared to the previous year, where 56,789 injuries were recorded in 2020, compared to 79,904 injuries in 2019.
The lowest number of injuries was in Cairo Governorate was with 219 injuries. CAPMAS noted that the highest month of the year in terms of road accident injuries was January with 6,495 injuries, while June was the lowest month with 3,282 injuries.