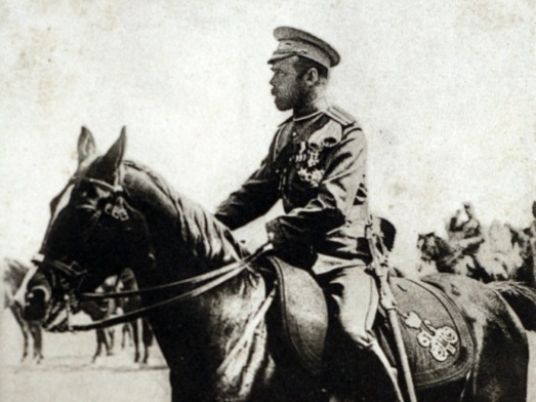 Saint or playboy? Blood-stained autocrat or family man; incompetent leader or just a victim of circumstance? One century after he ended Romanov rule, Russia's last tsar still prompts heated debate.
Nicholas II abdicated on March 2, 1917, or March 15 by the current calendar, in the royal train in the northwestern town of Pskov. "There is no consensus in society or among historians about Nicholas II," says Boris Kolonitsky, a history professor at the European University at Saint Petersburg.
Independent polling centre Levada last month found almost half of Russians feel positively about Nicholas II.
President Vladimir Putin, despite his Soviet spy past, has linked his rule to the Romanovs, opening statues and exhibitions and lighting a candle in front of an icon used at Romanov coronations. In December he called for the 1917 centenary to bring "reconciliation".
A big 'What If'
Nicholas II abdicated after the February Revolution in Saint Petersburg, when troops mutinied as protestors demanded bread and condemned tsarism.
An online poll by Komsomolskaya Pravda tabloid last month found 33 percent blamed the events on "foreign secret services", but just 15 percent blamed the tsar's wavering. Nicholas first wanted his ailing son Alexei to succeed, but agreed to choose his brother Grand Duke Mikhail, who refused, ending the dynasty.
Restorers at the Stieglitz Art and Industry Academy in 2016, displaying the portrait of Russia's Tsar Nicholas II, Russia's last tsar, in Saint Petersburg in 1896,by Ilya Galkin (Photo: Olga Maltseva / AFP).
For Romanov descendant Paul Kulikovsky, the moment of Nicholas's abdication is a big "what if". "It could easily have been avoided," said Kulikovsky, whose great-grandmother Olga was Nicholas's sister.
"He was basically isolated and didn't have any family or friends around him at this crucial moment." Kulikovsky, 56, is the only Romanov descendant living in Russia. With recognisably Romanov features, he grew up in Denmark but has a Russian wife.
He is philosophical about the Romanov legacy, citing a recent poll finding that only 20 percent want a monarchy. "Even if there is a monarchy, it's not a given that it will be a Romanov one again and I'm fine with that," he told AFP.
Romanovs as Holy Martyrs
After Nicholas's abdication, a provisional government took over but was overthrown by the Bolsheviks in the October Revolution.
The new authorities arrested the ex-tsar and his family and moved them to Siberia and Yekaterinburg in the Urals where the Bolsheviks shot them in 1918 and hastily hid their remains.
The Russian Orthodox Church has canonised the whole family as holy martyrs, which some believe means Nicholas II is beyond criticism.
A forthcoming film about Nicholas's pre-marital affair with a ballerina, "Matilda" by Alexei Uchitel, has angered extreme believers who even threatened arson attacks on cinemas.
Monarchists this month announced a bust of Nicholas II in Russia-annexed Crimea was miraculously oozing myrrh — a claim denied by the Church.
Nicholas's ambiguous status as a historical figure but also a saint affects his family, too.
Criminal investigators and geneticists believe bone fragments found in 2007 are the remains of Alexei and his sister Maria.
Tsar Nicolas II, Emperor of Russia, with titles of "Grand Duke of Finland and titular King of Poland", reviews troops in Poland during the World War I (Historial de Péronne / AFP).
But they cannot be laid to rest until the Church decides on their fate. Meanwhile they lie in boxes in state archives.
Other family members were buried in 1998 in Saint Petersburg in a ceremony attended by then-president Boris Yeltsin. Leading a Church investigation is Archimandrite Tikhon, a monk said to be President Vladimir Putin's spiritual advisor.
Tikhon said he hopes to announce a decision by this summer. "We hope very soon this will be the end of this chapter," Kulikovsky said.
'Not a good politician'
Still, historians are divided on the impact of Nicholas II's reign and his abdication. Monarchist historian Vladimir Lavrov of the Institute of Russian History at a recent debate in Moscow said the "handover of power was illegal."
It followed an "anti-Russian and anti-Orthodox" revolution," he said. Yet the tsar is still remembered as "Bloody Nicholas". In 1905 his troops shot dead hundreds of peaceful protesters, shocking the world.
Historian Kirill Solovyov of Russia State University for the Humanities recalled a Soviet joke that it wasn't Lenin but Nicholas II who did most to foment revolution. Solovyov believes a political crisis was inevitable but revolution could have been avoided if in 1917 the tsar had agreed to "radical changes in power."
But Nicholas delayed and by late February, the situation was "probably irreversible", Solovyov believes. For Kolonitsky, Nicholas "wasn't a good politician."
"He didn't want to allow reforms — which conformed to his beliefs, he was a convinced monarchist," he said. Russia's complex situation "escalated significantly" during World War I, he added.
"I'm not sure even a good politician could have brought the ship of Russia through those reefs. The challenges were very great." The public often dismissed the tsar as "a fool," he said, but Nicholas was not stupid.
He was an "unusually reserved" man who viewed his family as his priority, but also "had the gift to charm people," he said. He was "quite stubborn" but not a strong person or a good judge of those he appointed, Kolonitsky said. "He wanted to be an autocrat but he didn't have the character of an autocrat."